From Thursday, March 23, 2017
To Sunday, April 02, 2017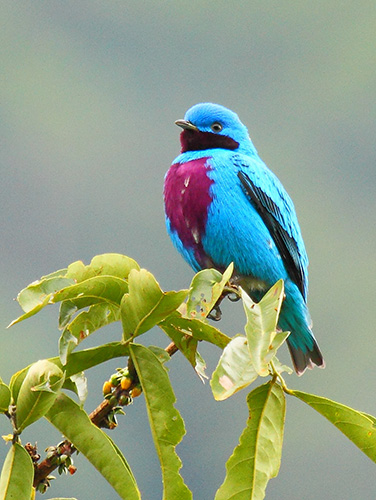 The  Lodge at Pico Bonito itself is a modern facility situated on 400 acres of prime birding habitat.  Tropical birds abound on the grounds, and field trips to the nearby coast and mountains encompassed by Pico Bonito National Park all lie with easy reach.  Public and private wildlife refuges and botanical gardens are also on the docket.  A multitude of toucans, trogons, and dazzling neon tanagers will elicit sighs, mews, and even gasps of delight, and there is no better location in Central America for the velvet purple and royal blue living jewel that is a Lovely Cotinga.  A visit to one of the three observation towers onsite should reveal this and many other canopy-dwelling gems best enjoyed from a lofty locale.  Not all the birds will come as easily, of course, but with any luck we may encounter Ornate Hawk-Eagle, Black-and-white Owl, Great Potoo, Violet Sabrewing, American Pygmy Kingfisher, Keel-billed Motmot, and Chestnut-colored Woodpecker.  At Pico Bonito we have a realistic chance of seeing all of them.  And the extremely local and endemic Honduran Emerald will lead us to its nearby cactus-clad haunts that seem so improbable juxtaposed with Pico Bonito's towering rain forests.  If a relaxing week in a great lodge surrounded by a tropical tapestry of bird song appeals, please join us this winter in a birder's paradise at Pico Bonito Lodge.
Adding just a few extra days after The Lodge at Pico Bonito on the Highlands Extension allows us to add over 100 species to the entire Honduras experience!  After absorbing the panoply of color at Pico Bonito, we proceed onward to more basic but equally bird-soaked eco-lodges.  We'll begin at the Panacam Lodge, shrouded in lush cloud forest.  In the Panacam lowlands, we'll seek Prevost's Ground-Sparrow and the intensely scarlet-rumped Passerini's Tanager, amongst others.  Birding along Lake Yojoa, bordered by the impressively steep mountains of Cerro Azul National Park will be a real treat.  Keel-billed Motmot, Tody Motmot, Black-crested Coquette and Spectacled Foliage-Gleaner represent a fraction of the species we may see in this area.   After two nights at Panacam, we'll move to a simple but comfortable inn near the entrance of La Tigra National Park.  Easy, open trails make for a great birding experience here, as does access to bromeliad-laden cloud forest and pine-oak woodland.  Resplendent Quetzal, for example, is far more likely to grace us with its presence at the expansive La Tigra, the first national park established in Honduras.  Singing Quail, Wine-throated Hummingbird, Azure-crowned Hummingbird, Bushy-crested Jay, Blue-and-white Mockingbird and Ruddy-capped Nightingale-Thrush are just a few other possibilities.  It's amazing to think all of this natural splendor lies only 30 minutes from our departure airport in the capital city of Tegucigalpa!
Leaders: Honduran leader(s) & John Yerger
Cost of our Honduras: The Lodge at Pico Bonito (March 23-29, 2017) tour includes all meals and accommodations, all entrance fees, and all transportation beginning and ending in San Pedro Sula—$2695.
Cost of Honduras with the Highlands Extension (March 23-April 2, 2017) includes all meals and accommodations, all entrance fees, and all transportation beginning in San Pedro Sula and ending in Tegucigalpa—$3995.
TO REGISTER: Print out a PDF Registration Form, call us at (520) 558-2351 or This email address is being protected from spambots. You need JavaScript enabled to view it..
Photo:  Lovely Cotinga
Photo by:  James Adams, copyright The Lodge at Pico Bonito
You are here:  

Honduras: The Lodge at Pico Bonito & Highlands Extension