From Friday, May 12, 2017
To Friday, May 26, 2017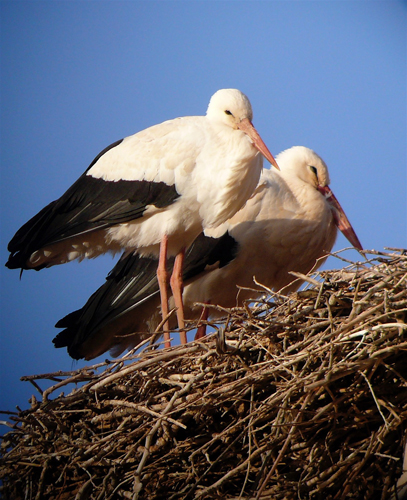 With ecological ties to the avifaunas of tropical Africa, the Mediterranean, and temperate Europe, Spain offers birders a cornucopia of avian delights.  Lending special charm to this trip are romantic vistas overlooking river gorge and sierra, and pastoral, medieval villages with ancient stone castles, churches, and monasteries.  During our fortnight exploring the full length of Spain, we'll visit Coto de Doñana National Park, the Straits of Gilbraltor, Monfragüe National Park, the scenic gorges of the Pyrenees, and the Ebro River Delta. From Montfragüe we'll stop at the beautiful city of Seville, before pressing on to the Pyrenees. The 300-mile-long barrier that separates France from the Iberian Peninsula, this bulwark of snow-clad peaks, awesome river gorges, and alpine meadows hosts a community of birds derived from the Alps and northern Europe.  Some of the species we'll seek here include the legendary Lammergeier, as well as charismatic Black Woodpecker, Alpine Chough, and Ring Ouzel.  We'll also make a special effort to see the purple-winged Wallcreeper, considered by many to be one of Europe's great birds. The tour concludes with a final night in Barcelona, home of Picasso, and Spain's most famous cultural mecca.  Our survey begins with Coto de Doñana, 125,000 acres of marismas, marshlands mixed with matorral or scrub and Cork Oak woodland.  Widely regarded as Spain's premier national park.  This is also one of the best locations for Spanish Imperial Eagle, Spain's only endemic species. Some of Doñana's more common residents include European Spoonbills, White Storks, and Greater Flamingos.  A morning circuit outside Acebron Castle may afford us views of Eurasian Hoopoe, European Golden-Oriole, Great Spotted Cuckoo, and Woodchat Shrike.  An easy drive from Doñana, the town of Tarifa on the Straits of Gibraltor overlooks the narrowest point separating Europe from  Africa.    Millions  of  birds  launch  from  the coast of Morocco for the seven-mile-long crossing every spring, and provide a rare opportunity to see migrating flocks of species such as Eurasian Buzzards and European Bee-eaters before they disperse over the continent.  Timing is key and there is no predicting a "fall-out," but Tarifa in May is the place to see one should it occur. 
Leaders: Rick Taylor & Rob Williams
Cost of Spain includes all accommodations, all meals, all ground transportation, and all entrance fees beginning in Madrid and ending in Barcelona—$4,995.
TO REGISTER: Print out a PDF Registration Form, call us at (520) 558-2351 or This email address is being protected from spambots. You need JavaScript enabled to view it..
Photo: White Storks on nest
Photo by: Rick Taylor