3 May 2017
Well, the biggest story from our Southwest Wings "Spring Fling" tour was actually catching up with a mega-rarity: TUFTED FLYCATCHER! Unfortunately I didn't get a photo of that one, but we also had some great "regular" specialties for Southeast Arizona that were a lot of fun.
No sooner had we walked into the campground at Reef Townsite in upper Carr Canyon than we were hearing call notes and snippets of song from Buff-breasted Flycathers. This species has been reliable at this particular site for many years, but anecdotally I feel that the population at Reef Townsite has at least doubled if not tripled in the past 5 years. Glad to see them doing so well!
Another upper-elevation regular, usually at the tippy-tops of pine trees, came down for a great view - Grace's Warbler:
Finally, there was one upper-elevation bird that offered views beyond compare. This is only the second Olive Warbler nest I have ever seen: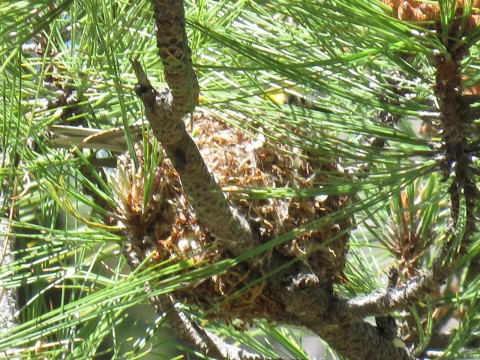 If you look very closely, you can actually see the female sitting on the nest! She seemed to be incubating, but it's hard to say if she was still keeping eggs warm or if she was brooding very tiny young since the weather was quite windy. The male also frequented the area, offering stunning views:
One aspect of Reef Townsite Campground that makes such sightings possible is that the pine trees here are not particularly tall, making birds like Grace's Warbler and Olive Warbler more accessible than in other parts of Arizona and New Mexico. Now with a mega-rarity available (remember that Tufted Flycatcher?), and with the road being in *relatively* good shape compared with years past, it might be a good time to consider a visit or re-visit to this birding gem of the Huachuca Mountains.
Good birding,
John Yerger