From Saturday, September 01, 2018
To Sunday, September 09, 2018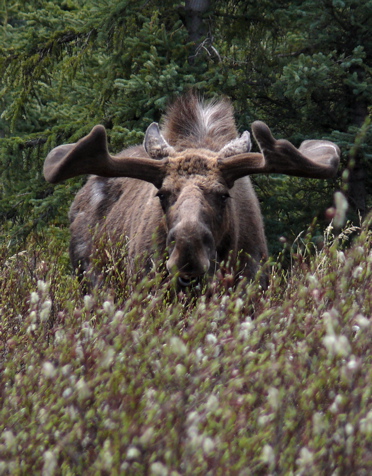 This excursion to Alaska in autumn captures the best of three distinct biogeographical regions: the dark spruce forests and mirror lakes of the central coast, the rocky islands of the Gulf of Alaska, and the taiga-tundra majesty of the interior's Alaska Range, perhaps the premier wildlife-viewing area in all North America. Our first destination is Denali National Park, a six million acre wilderness beneath 20,320'-elevation Mount McKinley, highest point in all North America—and rising 18,000 feet above the surrounding plateau, the highest land massif in the world. Here we may find Golden Eagles, Willow and Rock Ptarmigans, Northern Hawk Owls, Grizzly Bears, Gray Wolves, Caribou, Moose, and flocks of snow-white Dall Sheep grazing on swatches of tundra that are often a carpet of wildflowers at this season. Potentially our best birding in the interior is our full day transect of the Denali Highway. Incredibly scenic and little-traveled, possible birds along the Denali Highway include Gyrfalcon, Northern Goshawk, both Tundra and Trumpeter Swans, Boreal Chickadee and White-winged Crossbill. We'll savor the magnificent Alaska Range area for three nights and four days, ample time to enjoy one of the world's last great panoplies of wilderness, alive with truly large wildlife as abundant as before the advent of modern man. Next we visit the fjord and rainforest home of the Bald Eagle at Kenai Fjords National Park. Stupendous peaks rise vertically from icy waters and some 34 major, milky blue glaciers creep toward the sea. This is the province of Horned Puffins, Mountain Goats, Sea Otters, Humpback Whales, and above all Moose—the largest subspecies in the world. On an all-day boat trip we'll witness the awesome sight of tidewater glaciers as they calve into the ocean. Off the Chiswell Islands we'll have a chance of seeing Orcas, the so-called "killer whales," with their six-foot-tall dorsal fins, and Humpback Whales are relatively common in Resurrection Bay. The Chiswell sea cliffs provide refuge for tens of thousands of Black-legged Kittiwakes and comical Tufted Puffins. Close relatives here too include such distinctive species pairs as Common and Thick-billed Murres, Marbled and Kittlitz's Murrelets, and Rhinoceros and Parakeet Auklets. And we'll not neglect the community of birds that inhabit the deep spruce forests of the peninsula itself. Among these are Spruce Grouse, Three-toed Woodpecker, American Dipper, Varied Thrush, and Pine Grosbeak.
Leader: John Yerger

Cost of Alaska in Autumn: Wildlife Spectacle includes all transportation, lodging, meals, and entrances beginning and ending in Anchorage, Alaska—$3695.
Photo: Bull moose in velvet, Alaska
Photo by: Rick Taylor