From Sunday, April 01, 2018
To Monday, April 09, 2018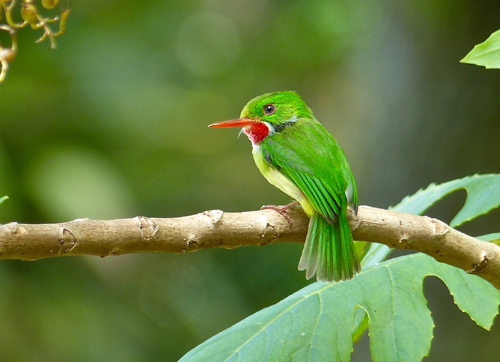 Jamaica provides a comfortable introduction to the Caribbean with all the amenities of a vacation destination. During our full week exploring this 146-mile-long paradise, we'll have the opportunity to view a suite of West Indian birds that includes an astounding 27 endemic species. Among these are the reclusive, pastel-tinted Crested Quail-Dove, the chestnut-winged Jamaican Lizard-Cuckoo, ginger-colored Jamaican Owl, the gorgeous Red-billed Streamertail—known as the "Doctorbird" to the locals, and the tiny Jamaican Tody, all of 3.5 inches of iridescent improbability that looks as if it was concocted by a committee of first graders with crayons. Our itinerary should ensure a high probability of seeing every single Jamaican endemic, although the unique and threatened Jamaican Blackbird—which prefers to forage alone or in pairs in rain forest epiphytes—is never guaranteed. Other specialties such as West Indian Whistling-Duck, Vervain Hummingbird, second-smallest in the entire hummingbird tribe, Loggerhead Kingbird, Rufous-throated Solitaire, and Greater Antillean Bullfinch are multi-island species confined to the Caribbean region. Probable additional species include wintering Black-throated Blue Warblers and the resident White-tailed Tropicbirds, as well as other wonderful birds that brighten both the interior and the coast. A special feature of this tour will be a visit to Marshall's Pen, a working cattle ranch and the home of Ann Sutton. Ann is the author of the highly regarded field guide to Jamaica's birds, and her estate provides a sanctuary for almost all of Jamaica's endemic species. No one has greater insight into this island's unique birdlife than Ann Sutton. Surrounded by sugar sand beaches and reaching up to bromeliad-draped cloud forest in the heights of the Blue Mountains, the scenery has made Jamaica a haven for international tourists for many decades. Zig-zagging across the 22 to 51-mile-wide island from east to west and from north to south, we'll visit the full panoply of habitats that give rise to Jamaica's rich avifauna, the most variegated of any nation in the entire Caribbean.
Leaders: Ann Sutton & Rick Taylor
Cost of Jamaica includes all accommodations, all meals, all transportation, and all entrance fees beginning and ending in Montego Bay, Jamaica—$3795.
TO REGISTER: Print out a PDF Registration Form, call us at (520) 558-2351 or This email address is being protected from spambots. You need JavaScript enabled to view it..
Photo: Jamaican Tody
Photo by: Rick Taylor